Hereditary (2018)
If you don't enjoy horror movies or the sensation of slowly being emotionally destroyed as deep-rooted anguish and primal fear washes over you, stop reading this review. Hereditary is not for you.
I recommended A Quiet Place to non-horror fans because it's taut and suspenseful, but a fun ride accessible to everyone. Hereditary is anything but accessible. It is deeply, wholly disturbing on an emotional and physical level. My heart raced so much I had to check my pulse. I felt like puking after it was finally over—and immediately wanted to march back into the theater and watch it again.
As my favorite film critic, Vince Mancini, recently wrote, "Horror is a genre where a lot of the stories are stock and the outcomes are somewhat predictable or predetermined, and everyone knows that going in. And so it becomes about finding moments, and using the cinematic language beyond communicating just what's on the page to build anticipation, suspense."
Hereditary could have abounded with clichés. There's a dead mom, a creepy kid and a spooky cabin in the middle of nowhere filled with dollhouses—all common tropes in the genre. Director Ari Aster subverts expectations again and again, however. Spoilers would ruin the wild ride this movie takes you on, hence the vague language I'll use to describe the plot.
"Evil runs in the family" is the movie's tagline. And that's what the film is about: family. How we hurt the ones we love the most, what we pass on to one another. The brilliant Toni Collette plays an artist who creates miniature scenes of real-life events, including the death of her mother, a complicated, troubled woman whom she was largely estranged from.
Collette asks her husband, played by a level-headed Gabriel Byrne, "Should I be sadder?" when they get home from her mother's funeral. Her mother focused her energy on Collette and Byrne's daughter—played with terrifying vacancy by Broadway's Milly Shapiro—to an unhealthy degree, an unfortunate pattern that becomes clearer as the film unfolds.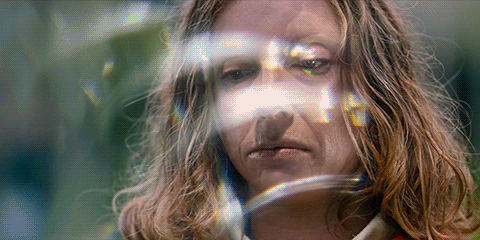 The inventive cinematography and set pieces here are staggering. Collette's miniature art pieces and the picturesque cabin house they live in evoke the feeling of being watched, that they're just actors in a story—which, well, they are. We as voyeurs watch their terror unfold from a safe distance that grows more intimate as the movie runs off the rails.
With all the familial threads and history between characters, particularly regarding mental illness, Hereditaryraises larger questions of determinism and fate. What do our family members leave us, map out for us? Not just with their genetics, but their hopes and dreams for our future? And what happens when we're crushed by the weight of those expectations?
This movie is gruesome. Yes, there is visual gore—blood, dead bodies, people being set on fire—but the characters also wound one another with their words in the way only family can, spitting cutting remarks that leave wounds which seep for a lifetime.