As Bob Marley observed, when it rains, it don't rain on just one man's house. Seasonal affective disorder (SAD) touches almost everyone. Watch the figures stomping off a commuter bus on any midwinter morning and the beautiful, intelligent, bright people of the Emerald City will resemble the gloomiest versions of themselves.
In Seattle, we can't tell you much about the dog days of summer, but we wrote a book about the cat days of winter. "People don't want to acknowledge that they are low, unmotivated and depressed each winter — and can do something about it!" claims Heather McAuliffe, volunteer citizen scientist and author of "Beating Seattle's Grey."
Lemons
Life will never give you lemons, but it will give you seasonal depression. When it does, go to California! As a fresh transplant I received this sage advice: take two sunny vacations each year, one in January, as the holiday high collapses across the city, and another in April, when the rain just won't stop and the Seahawks have finished throwing away the Super Bowl for the year.
If airfare isn't in the cards, spend more time in a sunnier neighborhood. In Seattle, the wind blows from the southwest. The neighborhoods northeast of the major hills (Capitol Hill, Beacon Hill, Queen Anne) get less rain and more sunshine than other parts of Seattle. The Olympic mountain range casts a rain shadow, blocking cloud coverage over popular local holiday spots such as the San Juan Islands. Living or visiting sunnier destinations can help with those long winter days.
Dancing in the Rain
One surprising contributor to SAD is interaction with rain — the lack of it! When water reacts with dry air, it creates negative ions. A survey of 33 scientific studies found consistent correlation between exposure to negative ions and reduced depression severity, lower psychological stress, less anxiety and enhanced well-being. "People need to dress up and get outside," advises McAuliffe. "When it's pouring rain, get out there. Prepare for it. Look at how kids engage with water. That's a model for us."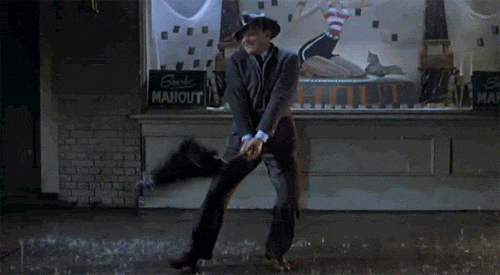 Colors
Blue Monday is England's unofficial — and very British — so-called unhappiest day of the year. When it takes place on the third Monday of each January (and sometimes the second or fourth Monday), Londoners dress in their brightest clothes in playful revolt against their iron grey skies.
Psychology accepts that cultural, evolutionary and experiential factors determine the meaning people give to colors. Drs. Patricia Valdez and Albert Mehrabian of UCLA found in their 1994 publication "Effects of Color on Emotion"that subjects across the board agree grey signifies dullness and impotence. Adding your own burst of color during the winter can help everyone combat negative emotions that result from constant exposure to our drab cityscape.
Action
Feeling blue? Rediscover the liberation of breathing fresh air. The benefits of fresh air and sunshine have long legacies as important components in healthy living. Maintain some outdoorsiness in your own lifestyle. The Pacific Northwest holds great natural beauty, and public busses in major metropolitan areas operate specifically for car-free hikers.
In "Beating Seattle's Grey," McAuliffe outlines the long history of clean air as an integral part of clinical disease treatment. In the 1930s and '40s, Firland Sanatorium in Shoreline, Washington, placed patients suffering from tuberculosis and other infectious diseases in open-air cottages, which calmed patients' lungs and accelerated healing through rest and relaxation.
When it comes to SAD, secure your life vest first and then move to help others. Seasonal affective disorder locks its victims in repetitive cycles — the best way to help others is to engage yourself in activities you find uplifting and encourage your family, friends and colleagues to join you.